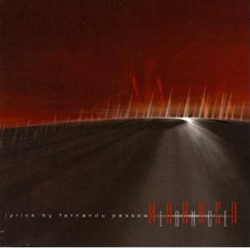 Maraca
Longe(Indies Records, 2003)
When I first moved to Seattle in the late 80's I found myself hanging out in arty dives where I immersed myself in art rock and experimental jazz. At the time, innovative artists such as Amy Denio, Jeff Greinke, Rob Angus and others (most likely influenced by similar scenes in Manhattan and San Francisco) were turning music inside out and creating new musical possibilities. This acted as my antithesis to the ever so popular grunge and even some of the grunge musicians would sit in with the more experimental players. I mention this Seattle scene that spawned and or attracted musicians such as Wayne Horovitz because the Czech experimental jazz-ethnic world musical group, Maraca would have found a perfect fit in Seattle back in the late 80's.
As you might imagine, Maraca bends the rules a lot while creating soundscapes as opposed to actual songs. They weave a tapestry of tape loops, French horn, samples, strings, wind instruments, didgeridoo and even Pan's flute in which vocalist-violinist Gabriela Pliskova sings in hushed tones, creaks or sends her clear soprano vocals sailing over the top of a dreamscape. She is joined by Petr Filak (guitars and oud), Tomas Rohleder (percussion), Robert Prokop (sampler, didgeridoo), Pimpa (cello), Radek Bednarik (woodwinds), Rudi Linner (French horn) and Ales Obkracil (bass).
The group's recording Longe somehow creates a multidimensional fabric that recalls black box theatre, underground cinema and any other art form that lies in the fringes of society. Longe is both eclectic and imaginative, but certainly not for the average listeners and even the more sophisticated listener would have to set a mood before popping this disc into the stereo.
Many of the tracks revolve around Gabriela's vocals set against an arrangement of strings, horns and tape loops or samples. The guitar is often repetitive creating a hypnotic effect while various instruments, such as the oud and didgeridoo are used sparingly to create an exotic atmosphere. All the tracks are set to the work of the most famous Portuguese author, Fernando Pessoa, but only a couple tracks come close to reflecting the Mediterranean including Nuven and meu triste coracao. The track, I know, possesses an Arabic or Middle Eastern tinge with wailing clarinet and Gabriela's impassioned vocals.
While this recording proves unconventional and makes for an intriguing listen, the songs end abruptly while failing to flow into one another. Most of the tracks could be called mood pieces and at least one track, e hoje e ja outro dia could come straight out of a B-thriller. It sets a dark and creepy mood while never quite fitting in with the rest of the tracks. Obviously, this CD is not a crowd-pleaser, but it does offer other musicians inspiration. And it's always refreshing when musicians bend the rules and define their own musical boundaries. Maraca does that and does that quite well.
Buy Longe.