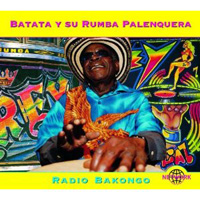 Batata y Su Rumba Palenquera
Radio Bakongo (Network 24.127, 2003)
About 300 years ago, a group of escaped African slaves barricaded themselves in a safe haven near Colombia's Caribbean coast, successfully fought off Spanish colonizer's repeated attempts to recapture them, and eventually founded the first free village of its type in the Western Hemisphere. That village, Palenque, survives to this very day as a spiritual and musical center of African culture in Colombia.
Paulino "Batata" Salgado is a master drummer and vocalist coming from a long line of musicians who've kept African tradition alive in Colombia through the rhythms, songs, dances and attitude that first asserted African identity there long ago.
Batata spent two decades touring the world as lead drummer in Toto la Momposina's band, and he brings a good bit of the international to this splendid album. When recordings of African music began to reach Colombia in large numbers in the 1960's, they were snapped up by sound system operators and listeners who instantly recognized the link between their own refined grooves and the sounds of the Congo, Nigeria, Ghana, Kenya and beyond.
Radio Bakongo celebrates that link with its foundation of drum rhythms that found their way from Africa to such places as Colombia, Haiti and Cuba, topped by instruments and melodies that reference varied African and African diasporic music.
The Colombian cumbia style gets a good showing, with many a pulse-quickening helping of rumba, highlife, Afrobeat and soukous adding to the celebration. Every song is a percussion-thundering, horn-blaring, vocal-testifying jam session of the highest order, reducing the space between Africa and Colombia to the amount of room it takes to shake your hips. This is African/Latin fusion at its sweaty, serious best, and one of the must-have releases of the year.
Author:
Tom Orr
Tom Orr is a California-based writer whose talent and mental stability are of an equally questionable nature. His hobbies include ignoring trends, striking dramatic poses in front of his ever-tolerant wife and watching helplessly as his kids surpass him in all desirable traits.