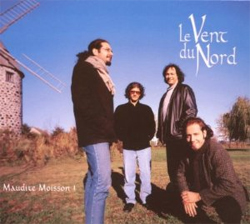 Le Vent du Nord
Maudite Moisson [damned good harvest] (Borealis, 2003)
Quebecois musician and dancer Benoit Bourque (Matapat) brought the traditional group Le Vent du Nord to
my attention recently and as luck would have it, this charming quartet will be showcased at the 26th Annual
Vancouver Folk Music Festival. Le Vent du Nord (The North Wind) features Benoit on accordion, bones,
mandolin, response vocals and step dancing, yet he represents only 1/4 of this sprightly group. Originally
formed by Pianist Nicolas Boulerice (piano, hurdy-gurdy and lead vocals) and accomplished violinist Olivier
Demers (fiddle, guitar and vocals), Benoit and Guitarist Bernard Simard (formerly of La Bottine Souriante)
joined this Quebecois all-star quartet.
Recorded last December, the quartet's debut CD, Maudite Moisson
was recently released in Canada thus giving Canadians another reason to celebrate the country's diverse
musical traditions. The four artists featured on this recording are all well traveled and versed in traditional French language music
from Quebec and Brittany. Various tracks such as, Les trois freres Roy, Le moine complaisant and Chanson
d' Hortense/Gigue des militaires were passed down to Nicolas through his various ancestors. Other songs
such as Riton/ C'est dans Paris or Au bord de la fontaine are traditional songs arranged by members of the
La Vent. While others, Grand-Pit/ Reel a deux tetes, Valse pour une fee and Petit reve II are original
compositions. However, the songs here flow seamlessly into one another and blend historical monuments with
a contemporary renditions. You will not find programming or electronic instruments on this recording which
further proves that acoustic instruments still have the ability to excite the senses. The rhythms created here of
the toe tapping variety induce listeners to get up and dance. And the love songs, old fashion in the traditional
sense, also delight ears hungry for musical sustenance. Fiddles dance with melodies played out on
accordions, hurdy-gurdy, guitar and effervescent piano. And all four musicians chip in vocals that run the
gamut from sensual to sublime.
Fans of Matapat, La Bottine Souriante and other neo-traditional Quebecois groups would do well to add this
recording to their collection. When many people think of Quebec, they conjure up images of the Separatists
Movement, Pierre Trudeau or horses and wagons trudging through snow and yet, Quebec harbors a wonderful
musical tradition that mirrors traditional music from Brittany and Cajun music from New Orleans. It's a music
akin to celebrations, Quebecois kitchen parties, love, romance and storytelling. Le Vent du Nord's Maudite
Moisson (damned good harvest) reaps the rewards of effort, talent and a nod to tradition.
(compliments of Cranky Crow World Music).
Buy Maudite Moisson