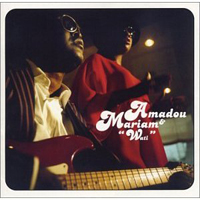 Amadou and Mariam
Wati (Circular Moves CIM 7011, 2003)
Known as "The Blind Couple of Mali" when they first began to make a splash in their homeland and throughout West Africa, Amadou and Mariam continue to make inroads with listeners elsewhere in the world. The story of how they met at the Institute For The Young Blind in Bamako and triumphed over their visual impairments is a heartening one, but it's their music that will get you and keep you hooked.
It's been widely asserted in recent years that West Africa is the true birthplace of blues music, and just like fellow Malians Ali Farka Toure, Habib Koite and Boubacar Traore, much of what is heard in the songs of Amadou and Mariam fuels that contention. Their 1999 album Sou Ni Tile (on the Tinder label) was full of longing, ethereal sounds centered around Amadou's aching guitar riffs and Mariams voice-in-the-wilderness singing taking the lead as well as harmonizing with Amadou's gruffer tones. There was also a distinct Arabic leaning in the disc's frequent use of Middle Eastern modes and phrasing.
The couple went in a somewhat different direction with their next one, 2000's Tje Ni Mousso (Circular Moves), speeding up the grooves a bit and inserting a heavier Latin/Caribbean feel hinted at previously. Now, with Wati, the two let it all hang out. Amadou's guitars ripple with authority over galloping drum and percussion rhythms, firmly anchoring bass, varied doses of keyboard, brass, flute, n'goni lute and even hurdy-gurdy and Gnawa instrumentation.
Vocally, Mariam runs the gamut between plaintive and ecstatic as expertly as Oumou Sangare or Rokia Traore, her voice equally at home front and center or sweetening the angular edges. The steady, rolling pulse of songs like "Sarama,' "Mali Denou" and the opening "Wali De" are tucked away among rockier pieces ('Lahilala," "Les Temps Ont Change") and percolating ballads that address love, faith, history and changing times. Firmly rooted in West Africa but strengthened by shadings of funk, jazz, folk, Islamic mysticism and even rock and roll, this deeply engaging work is another keeper from Amadou and Mariam.
Author:
Tom Orr
Tom Orr is a California-based writer whose talent and mental stability are of an equally questionable nature. His hobbies include ignoring trends, striking dramatic poses in front of his ever-tolerant wife and watching helplessly as his kids surpass him in all desirable traits.