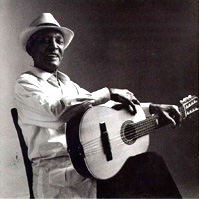 (Prensa Latina) Havana, Cuba – The death of Francisco Repilado, known worldwide as Compay Segundo, covered Cuba in mourning when the news was learned by the Cubans early Monday morning.

Repilado, 95, died late Sunday night. He had been suffering for several months of a severe metabolism disorder and kidney failure. Severe symptoms, according to the diagnosis by his physicians, provoked further complications such as the rise of his PH and cretinine level and his blood was contaminated with no remedy.

Compay was a gentleman, one of the most popular figures of our music, Anibal Perez, a middle school student said on his way to the Calzada y K funeral parlor in the El Vedado neighborhood.
Afterwards, as he wished, his remains were taken to Santiago de Cuba, his birthplace, where he was buried at the Santa Ifigenia cemetery.
Some days before dying, he had also asked the Municipal Band of Santiago, with which he was once a clarinetist and regular concert member, to accompany him in the procession. With this Band he played at the inauguration of Havana's Capitol Building and the central highway, in 1929. The sound of his clarinet gave the signal and the flag was hoisted.

A deep sadness covers the Cuban arts and cultural scene. "We are dismayed"; writers and musicians such as Waldo Leyva, José Maria Vitier and Cesar Portillo de la Luz coincided. "He was a symbol of Cuban identity, the profound Cuban identity that fed his music and was evident in the lyrics of his songs", they stated.

Máximo Francisco Repilado Muñoz, his real name, remained at his home in Miramar until the end of his life to not lose touch with his closest memories, to continue feeling the deep smell of the sea that brought him the persistent perfume of his childhood beach in Santiago (Siboney). His friends who saw him in the last days of his life told Prensa Latina that he recovered lucidity only during brief moments. In one of those instants, he addressed them saying: "Here, fighting."

He started his career in Cuba when he was 15 years old, when he bought his first clarinet from Ernesto Toujares along with a learning method. "I paid him", he would recall in a recent interview, rolling cigars in a "chinchal" (small home factory) he owned. But before, when he was 12, still wearing shorts (as the fashion dictated in the period) he had already founded a sextet christened Los Seis Ases. "We were Tivolí children", he confessed to his colleague Jorge Petinaud, in Santiago de Cuba, "and we were very popular." He always boasted of having been one of those "musicians on the corner" who during the hardest times of economic crisis cheered people up on the streets. He also was a serenade musician who studied music theory to find ways to permit him to do what he wanted in the right way.

Compay Segundo had a brilliant career in Cuba along with Ñico Saquito, Sindo Garay, and Miguel Matamoros, "that fine-looking dark-skinned man who thought he was Gardel", as Compay used to say. He met Benny Moré when he was a 13 or 14 year old adolescent, worked with him, saw him succeed thanks to his clear and bright voice that identified him and has perpetuated him beyond his death.

Two of his proudest moments were having sung for Pope John Paul 2nd and that his song Macusa, full of that candid sensuality he managed so well, that soft picaresque, was one of Colombian writer Gabriel Garcia Marquez's favorite songs.

When he arrived to a second wave of success after turning 90, thanks to the Buena Vista Social Club
project, sponsored by Cuban Juan de Marcos González and US guitarist Ry Cooder, was an extra gift of life, as an opportunity he had to take advantage of. Suddenly he became the eldest worldwide music legend. But he never lost the humbleness, modesty, and kindness that distinguished him. As one of his most fervent Mexican fans recalls: "that smile of Compay Segundo is capable of erasing all the sorrow of your life."
Author:
TJ Nelson
TJ Nelson is a regular CD reviewer and editor at World Music Central. She is also a fiction writer. Check out her latest book, Chasing Athena's Shadow.
Set in Pineboro, North Carolina, Chasing Athena's Shadow follows the adventures of Grace, an adult literacy teacher, as she seeks to solve a long forgotten family mystery. Her charmingly dysfunctional family is of little help in her quest. Along with her best friends, an attractive Mexican teacher and an amiable gay chef, Grace must find the one fading memory that holds the key to why Grace's great-grandmother, Athena, shot her husband on the courthouse steps in 1931.
Traversing the line between the Old South and New South, Grace will have to dig into the past to uncover Athena's true crime.