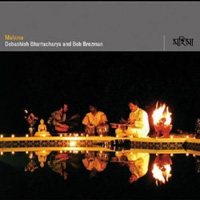 Debashish Bhattacharya and Bob Brozman
Mahima (Riverboat Records/World Music Network TUGCD1029)
American acoustic guitarist Bob Brozman certainly has a knack for wonderfully unique collaborations. I'm not sure if he chooses the collaborators or they choose him, but everyone seems to emerge a winner when a Brozman team-up comes to pass. Of course, it doesn't hurt that Brozman is a master musician just as surely as are those he pairs with, but the real secret seems to be just the the right meshing of elements that work culturally as well as sonically. Brozman's previous discs with Okinawan sanshin player Takashi Hirayasu and Reunion Island accordionist Rene Lacaille just sounded so indefinably right. They were fusions that seemed to presume nothing and thus succeeded at everything.
Now, Brozman has hooked up with Calcutta-born slide guitarist Debashish Bhattacharya to simultaneously pay respect to and shake up the richly complex tradition of Indian raga. Paring down the often epic-length aesthetic of raga into more conventional song structures while maintaining a sense of improvisation and adventurous use of ascending and descending scales, the two create pieces that dip, dance and shimmer with exquisite beauty. The guitars slide along like freshly sharpened skates on ice- deft one moment and drenched with emotion the next, playing through and around differences (and more importantly, similarities) in technique, packed with power but never indulgent.
Bhattacharya and Brozman clearly understand each others' nuances, and the resulting conversant nature of their playing is a joy to hear. Joining in on percussion is Bhattacharya's younger brother Subhashis, who likewise bends the rules to good effect by playing not only Indian tablas but a slew of African, Arabic and Celtic instruments.
Sister Sutapa Bhattacharya makes it even more of a family affair with richly celebratory vocals on some tracks, which, like the instrumentals, are reflective of specific aspects of Indian culture or its interactions with other lands on a musical level.
The word mahima translates loosely as "divine inspiration through artistic creation," and Mahima the album is creative and inspired to the point where the title borders on understatement.
buy Mahima
Author:
Tom Orr
Tom Orr is a California-based writer whose talent and mental stability are of an equally questionable nature. His hobbies include ignoring trends, striking dramatic poses in front of his ever-tolerant wife and watching helplessly as his kids surpass him in all desirable traits.