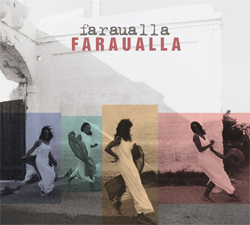 Faraualla
Faraualla (Amiata Records, 1999 Recording/released in the US in 2001)
Often times I discover incredible recordings when perusing the public libraries music shelves. On one fateful day, I picked up the Italian a cappella group Faraualla's debut recording. Although this recording was recorded in Florence, Italy in 1999 and released in the US two years ago, I had only recently learned about the quartet and polyphonic choir music.
Faraualla's enchanting and beguiling performance falls somewhere between a Bulgarian choir and the Belgian group Zap Mama. The four vocalists, Christina Palmiotta, Gabriella and Maristella Schiavone and Teresa Vallarella give their vocal chords a workout, sometimes singing in only pitches dogs can hear or singing in a guttural fashion, but mostly their vocals reflect a sweetness similar to the Finnish group Varttina. (For some reason, playing this CD attracts raccoons to my back porch).
The recording features 14 varying tracks with origins found in Hungary, Bulgaria, Corsica, Native America, Russia, Italy and Dalmatia. The tracks are backed by drummer Pippo D'Ambrosio who performs intricate rhythms and polyphonic beats on bendir, tar, singing bowl, hand drum, bells, cymbals and a collection of percussion instruments that would cause others drummers to salivate.
Each song is given a different treatment from rousing gypsy dances to the playfulness of a child's game and as the songs flow into one another, I can't help wish that the music would never stop. I find this album irresistible and I wonder why it received so little attention when it was released. I found a few reviews hidden on the Internet and most of the reviews were by other folks such as myself who discovered the CD by mistake or coincidence.
One woman reviewer found Faraualla's songs to be reflective of African music due to the call and response a cappella vocal arrangements augmented by polyphonic rhythms. I find this music to be otherworldly and international since it draws from various traditions presented to us over time. I realize that this is an older release, but Faraualla is a group worth noting and worth knowing.
Buy Faraualla