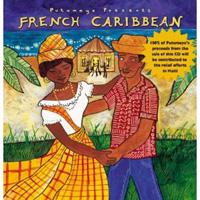 Various Artists
French Caribbean (Putumayo PUT 211-2, 2003)
Musically, some Caribbean islands bear strong marks of having been former colonies of Spain, England or The Netherlands. Haiti, Martinique and Guadeloupe, however, were under French control back in the day. As elsewhere in the Caribbean, enslaved Africans provided the rhythms that today form the basis of popular music in those places.
Putumayo's French Caribbean is a celebration that is as lively as it is sultry and sensual, oozing forth beguine, compas and other styles with melodic strains cut from the same cloth as French chanson or cabaret music and beats straight from Africa.
Some of the songs, such as the selections from Michel "Sweet Mickey" Martelly and Haiti Twoubadou, groove to a choppy gallop like what you'd hear in cumbia or reggae, resounding with a folkloric feel shared by Kali's banjo-picking quadrille and Emeline Michel's graceful ode to motherhood. There's modern-sounding tracks to keep things balanced, embellishing the roots via electronic and hip-hop touches without drowning them.
The disc ends with a live track from the mighty Kassav', who combined the various traditional musics with up-to-date studio technology to create the rousing contemporary style known as zouk. It's a fitting final note to a nicely put together collection that will leave you wanting to explore the region's music further.
Buy French Caribbean
Author:
Tom Orr
Tom Orr is a California-based writer whose talent and mental stability are of an equally questionable nature. His hobbies include ignoring trends, striking dramatic poses in front of his ever-tolerant wife and watching helplessly as his kids surpass him in all desirable traits.