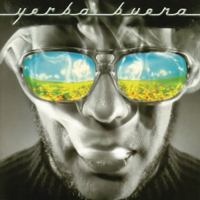 Yerba Buena
President Alien (Razor and Tie 7930182894-2, 2003)
It's easy to like a band whose name means "good weed." Truly, it appears that some degree of herbal assistance may have played a role in Yerba Buena coming up with their mix of salsa, Afro-Cuban, cumbia, rock, hip-hop, urban funk, Afrobeat and a few other kitchen sinks. It's the Latino edge that stands out most, though the many global flavors in this serious party music are fully integral and not mere adornment.
The rap elements are the least interesting aspect (there's even a lame reference to "J-Lo" in the opening track), though they do manage some deft twists and turns by utilizing unusual cadences and gearing their intensity to match the abundant percussion. Some of the adventurous instrumental work here (the horns of Ron Blake and Rashawn Ross in particular) recall the freewheeling sounds of the Fania All Stars and other vintage Latin boogaloo, and show clearly that this band is just as much about giving the roots their due as they are about sounding cutting edge. In other words, the mix of old and new is a good one, with equal parts Orisha-inspired rhythms and street swagger.
The songs often take unexpected turns into tight percussion breaks, jazzy solos or spaced-out vocal tangents with no loss of groove momentum. There's plenty of variety as well- compare the smoky fun of "Fire" with the assertive "Definition of a Warrior," and you hear the mark of a band that's diverse in subject matter as well as sound. The core band members are players and singers of considerable skill, but assisting Yerba Buena are numerous guest artists who've rubbed elbows with guitarist/keyboardist/bandleader/sonic mastermind Andres Levin in his many musical projects.
These include Carlinhos Brown, Mark Ribot, Yosvany Terry and Andy Gonzalez, adding licks and kicks that deepen and sweeten the proceedings. President Alien is fusion music with appeal likely to reach far and wide. Be prepared not only to fall under its spell, but to go down dancing.
Author:
Tom Orr
Tom Orr is a California-based writer whose talent and mental stability are of an equally questionable nature. His hobbies include ignoring trends, striking dramatic poses in front of his ever-tolerant wife and watching helplessly as his kids surpass him in all desirable traits.