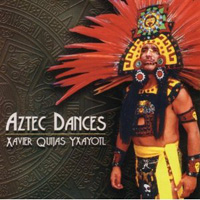 Xavier Quijas Yxayotl
Aztec Dances (Canyon Records CR-7045)
Mexican-born flute player Xavier Quijas Yxayotl continues to tap into the ancient yet strangely refined sounds of Mesoamerica in his recordings. From the 1300's until Spanish rule was imposed in 1521, the Mexica (Aztec) civilization flourished in what is now Mexico, and their winds-and-percussion-dominated music was essential to the ceremonial and religious aspects of everyday life.
Like Yxayotl's albums Crossroads and Singing Earth (the former a collaboration with Native American flutist Robert Tree Cody), Aztec Dances is full of sounds that don't get any more earthy. Utilizing flutes and percussion instruments constructed of wood, gourds, clay, reeds and the like, the music is layered and dense, with the percussion often surprisingly melodic in addition to being rhythmic.
The flow and intensity of the beats varies, often within the same track, but the changes always feel natural, never jarring. An array of drums and struck percussion ripples in low, medium and high ranges while dryly articulate rattles and flutes convey celebration, spirituality and cultural identity in gently urgent fashion. There is an empathy between Yxayotl and his three drummer/percussionists which recalls the fact that musical notation was almost unheard of in the Aztec world.
One can't help but feel that all this sounds much as it must have centuries ago. Aztec Dances is raw and beautiful, perfect for when an antidote to slickly polished music is needed.
Buy Aztec Dances
Author:
Tom Orr
Tom Orr is a California-based writer whose talent and mental stability are of an equally questionable nature. His hobbies include ignoring trends, striking dramatic poses in front of his ever-tolerant wife and watching helplessly as his kids surpass him in all desirable traits.