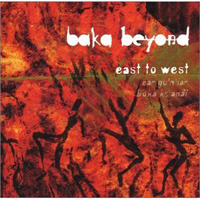 Baka Beyond
East to West (Narada World 72435-43725-2-0)
It's been a decade since Baka Beyond's Spirit of the Forest, a landmark collaboration in which eclectic English guitarist Martin Cradick and his vocalist wife Su Hart traveled to Cameroon to meld the rhythms and voices of the forest-dwelling Baka people with acoustic guitar, mandolin and some studio tweaking to produce an ethnic/folk/global hybrid that still sounds inspired. Once Baka Beyond evolved into a true recording and touring band, their music began to take on a distinctly Afro-Celtic feel.
On East to West, the violin, pennywhistle and uilleann pipes that combine with an array of African percussion don't sound particularly groundbreaking, but it sure is a great fit. The interplay is sweetly evident during the instrumental passages, where the jig-and-reel melodies compliment the intricate rhythms (and vice versa) with a symbiosis that is all at once joyful, sensual and invigorating.
Cradick's guitar and mandolin still provide much of the sparkle while Hart's vocals (particularly on the lighthearted "Ra-Li-O" and the pensive "Silver Whistle") suggest sounds emanating from a pub in the middle of a rainforest. Baka Beyond has indeed moved beyond- Baka percussion and vocals played only a minor role in the creation of this disc. Still, the band remains dedicated to improving the quality of life for the Baka, paying royalties for use of their music and assisting charities connected to their cause. So while East to West is a highly enjoyable album, it's also the latest step in a crossing of cultures that will continue to benefit all involved.
Buy East to West
[Editor's footnote] Read the following article about the Baka's new nightclub in the jungle: Nightclub in the Jungle
Author:
Tom Orr
Tom Orr is a California-based writer whose talent and mental stability are of an equally questionable nature. His hobbies include ignoring trends, striking dramatic poses in front of his ever-tolerant wife and watching helplessly as his kids surpass him in all desirable traits.