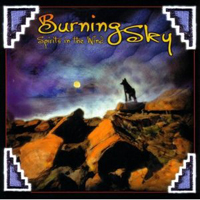 Burning Sky
Spirits in the Wind (Canyon Records CR-7047, 2002)
Pared down to the duo of Aaron White and Kelvin Mockingbird (both of whom are proficient on guitar and Native American flute) Burning Sky continue to make great music, though the feel now is one of soulful intimacy rather than exploratory inventiveness.
Their three previous albums for Canyon were trio efforts with percussionist Michael Bannister as a core member, and for 1998's wonderful Enter The Earth (Ryko), the group added a bassist to become a quartet. By that point they were part neo-traditionalists, part canny global fusionists (including African, Celtic and many other flavors in the mix) and part jam band. I'm not sure what kind of personal or professional shake-ups led to the current version of Burning Sky, but the fact that Spirits In The Wind is a work of considerable beauty indicates they couldn't have been too very painful.
Acoustic guitar and flute in various solo and duo arrangements carry most of the disc, with a chamber music sensibility occasionally riled by blues riffing, growling didgeridoo or production that seems deliberately not fancy.
Interestingly, White and Mockingbird are joined by former Doors drummer John Densmore (credited with playing the dumbek, but it sounds more like a jembe), who adds some pleasantly primitive pounding on an effective cover of Jimi Hendrix's "Little Wing" and elsewhere. This is not music that's going to blow you away, but with pieces like the closing "Shadow Man" taking their sweet time, you may well find yourself drifting away instead.
This album can be seen as something of a musical crossroads for Burning Sky- they've blazed trails, and now, likely on their way to blazing more, they've paused to make music that's lovely and unpretentious.
Author:
Tom Orr
Tom Orr is a California-based writer whose talent and mental stability are of an equally questionable nature. His hobbies include ignoring trends, striking dramatic poses in front of his ever-tolerant wife and watching helplessly as his kids surpass him in all desirable traits.