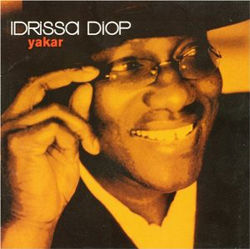 Idrissa Diop
Yakar (Tinder Records, 2003)
Senegalese band leader Idrissa Diop offers us his dance to you drop release, Yakar which marks another
sizzling recording coming out of the African continent and African music releases tend to be endless these days, cranking out one gifted artist after another, almost to the point where these musicians get lost in a sea of names. I know I have trouble remembering names, but like many other world music enthusiasts, I am delighted to keep unveiling these musical treasures. Similar to other contemporary African musicians, Diop records and performs with a large band that includes 5 percussionists, 6 horn players, guitar, bass, keyboards, violin and backup vocals.
The soundscape created is immense with power beats, blaring horns and impassioned vocals that never relent. As you can imagine with this arrangement, Diop explores various musical territories from Cuban salsa sung in the Wolof language (one of the Senegalese languages), jazz that recalls John Coltrane, funk, rock and disco. Diop's writing and arranging proves strong here and his love for music comes through in his tribute to music, Guenth (Dreams) which appears twice on the CD, once as an instrumental. Most of the tracks feature high octane music including the funky rock titular Yakar, the groovy Life, Cuban Sopante and Diolof Man which recalls the 70's super funk group, Earth Wind and Fire.
However, Diop knows that a dancing body needs rest now and again, so he tosses in a few ballads that allow listeners to wipe the sweat from their brows and to breathe. Tire Ailleurs slows things down a bit with its Arabic violin and percussion. The love song, Nop features Coltranesque sax laid over jazzy piano and a trap kit. And Africains et Antillais recalls a Caribbean ballad. Diop whose vocals often times recall fellow countryman and superstar Youssou N'Dour comes off as an instinctive and passionate performer. He carefully crafts the type of songs that please audiences live and on recordings. And similar to the too numerous to name talent coming out of Africa, there's no stopping this musical force and who would want to anyway?
(Compliments of Cranky Crow World Music).
Buy Yakar