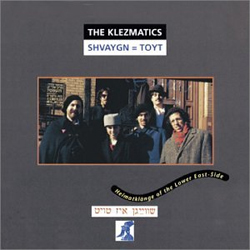 In 2003, Rounder Records has reissued The Klezmatics' seminal recordings, Shvaygn=Toyt (Silence=Death) originally released on Piranha Records in 1988 and Rhythm & Jews released on Piranha Records, 1991. Both CD's were recorded in Germany and the songs on the CDs are sung in Yiddish and German.
Silence=Death features the Les Miserables Brass Band along with The Klezmatics lineup that includes, Kurt Bjorling (clarinet), David Licht (drums), founding member and composer, Frank London (trumpet), Paul Morrissett (bass), Lorin Sklamberg (vocals, accordion and piano) and celebrated klezmer fiddler Alicia Svigals (who later embarked on a solo career).
The recording marries Russian waltzes with swing and experimental jazz, folk and klezmer music resulting in an eclectic musical stew. First Waltz features a circus-like atmosphere filled with oompah pahs, swirling clarinet, sparkling horns and Lorin Sklamberg's emotive vocals. Glass of Wine would be equally at home on a Tom Waits' recording and a Jewish wedding party. Other tracks on the CD range from moody waltzes, Balkan gypsy and experimental jazz music and it is only the talent of the band members that hold this melange together.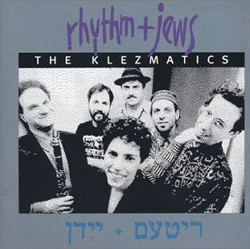 A similar lineup of musicians appears on the follow up Rhythm & Jews with clarinetist David Krakauer replacing Kurt Bjorling and Krakauer's presence can be felt throughout the recording.
On first listen, Rhythm and Jews appears less eclectic than Silence=Death. There are an equal amount of romps as there are laments on the CD, but the group favors orchestral arrangements over jazzy numbers. Fun Tashlikh focuses on Krakauer's impassioned clarinet performance that is draped over North African percussion. NY Psycho Freyleklis combines Manhattan mayhem with a Balkan gypsy wedding party and features Alan Bern on accordion. Araber Tants features Alicia Svigal's sonic violin and Tsiveles Bulgar showcases the band members' musical prowess.
While many purists will argue that The Klezmatics do not record and perform authentic Klezmer music, the group has brought klezmer music to a larger audience. And perhaps they have taken klezmer music to the next level. For some folks, these two recordings will be a pleasant trip back in time.