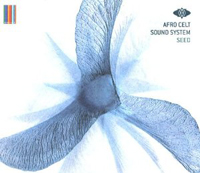 Afro-Celt Sound System
Seed (Real World/Narada Records, 2003)
On first listen, I found Afro-Celt's fourth release to be heavy on the Celtic inspired washes and light on the African and Asian big beats. However, after a third listen, I realized that the Afro-Celts had solidified all their previous recordings into this gorgeous gem. Sure the absence of Barry Dembe (Shadowman) can be felt as can the return of French Celtic harpist Myrdhin, but Seed is nothing short of magical and its enchantment harbors no false illusions as it unleashes its spiritual force. If you fear this sort of magical experience then beware because Afro-tribal spirits dance with Celtic gods here; their force is spectacular.
You will not find the big name acts or radio friendly chorus-verse-chorus on Seed. But you will find a musical maturity and a complexity of multi-tracking that marries Celtic, Irish and East Indian instrumentation while using vocal textures to its full effect. And Johnny Kalsi's big beats come through loud and clear on the weighty Rise Above It and The Other Side. Nothing is missing here, but it does take a few listens and a good ear to discover this recording's hidden musical treasures. This really is a musician's dream album.
The CD opens with the ethereal Cyberia which features Narada recording artist, Jesse Cook on flamenco guitar along with James McNally on a Javanese bamboo flute and N' Faley Kouyate on balafon. The song represents a musical global village and a collage of instrumentation. Seed highlights blues slide guitar, Kalsi's power rhythms and N 'Faley's tribal vocals. Nevermore focuses on a duet between Iarla's clear tenorist renderings and chanteuse Nina Miranda, herself resembling a Brazilian samba performer. The track is repeated as an instrumental at the end of the CD, but I prefer the one with vocal tracks.
The earthy Other Side conjures a jungle atmosphere featuring the Screaming Orphans harmonizing with N' Faley, riding over heavy drum beats. Rise Above It again finds Iarla in a duet, this time crooning with the whisky drenched vocalist Mundy (recalling Robert Plant on Further in Time). It's a long play groove and trance number sure to please fans of the Afro-Celt's third release, Further in Time. Slowing things down, Ayub's Song/As You Were glides by at a dreamy pace and recalls another Afro-Celtic group, Baka Beyond's work. Rise focuses on Myrdhin's Celtic harp which plays over a backdrop of guitar and synth drone with Iarla's vocals skimming the top.
As their previous CD title would imply, Afro-Celt has in fact traveled further in time both spiritually and musically speaking. Seed will most likely appeal to discriminating listeners that are just as interested in the melody as they are the musical mix. However, we don't need to get analytical here since Seed also feeds on intuition, instinct and the sacred. It's truly a treasure.
Compliments of Cranky Crow World Music
Buy Seed