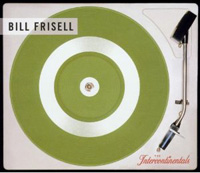 Bill Frisell
The Intercontinentals (Nonesuch 79661, 2003)
Bill Frisell certainly took the road less traveled with his latest offering, The Intercontinentals on Nonesuch Records. He didn't take the road alone either. Traveling down the road with him are Greg Leisz, Sidiki Camara, Vinicius Cantuária, Christos Govetas and Jenny Scheinman. And Bill knows how to pick them all right, because each of them possesses extraordinary talent and inspires the listener to take a global path. The group debuted in the fall of 2001 in Seattle at the Earshot Jazz Festival. With the new CD, they are sure to lure in many more fans.
The musical landscape of
The Intercontinentals
is hauntingly familiar and strangely unexpected at the same time. Incorporating American folk, African rhythms, blues, jazz and a dash of electronic gives the road some surprising twists and turns. Greek-Macedonian, oud player Christos Govetas, along with percussionist Sidiki Camara from Mali, Greg Leisz on Asher lap steel and Frisell on electric guitar turn the listener inside out with the very first track "Boubacar." Camara's vocals and percussion on the track "Baba Drame" combined with Jenny Scheinman on violin, Govetas on oud, Leisz on pedal steel guitar, Frisell on electric guitar and Cantuária on snare drum and bass drum make for a fabulous trip.
Brazilian composer/ singer/percussionist/singer Vinicius Cantuária balances out the quieter pieces with the energizing "Procissão" on electric guitar and vocals. Close your eyes and let the mind's eye gaze out the window on "We Are Everywhere" and let it take you on an international road trip and you won't be disappointed.
Thanks to fine musicianship and an international meeting of the minds, The Intercontinentals is worth the ride and will take the listener down lesser traveled roads.
Author:
TJ Nelson
TJ Nelson is a regular CD reviewer and editor at World Music Central. She is also a fiction writer. Check out her latest book, Chasing Athena's Shadow.
Set in Pineboro, North Carolina, Chasing Athena's Shadow follows the adventures of Grace, an adult literacy teacher, as she seeks to solve a long forgotten family mystery. Her charmingly dysfunctional family is of little help in her quest. Along with her best friends, an attractive Mexican teacher and an amiable gay chef, Grace must find the one fading memory that holds the key to why Grace's great-grandmother, Athena, shot her husband on the courthouse steps in 1931.
Traversing the line between the Old South and New South, Grace will have to dig into the past to uncover Athena's true crime.