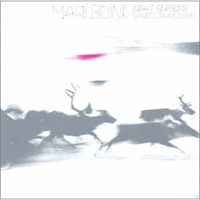 Marie Boine
Eight Seasons (Northside Records, 2003)
Similar to Wimme, Norwegian born Sami vocalist Mari Boine also joiks over a backdrop of modern technology. She, however, provides an English translation of the Sami poetry she sings, allowing listeners to get a feel for Sami life. Boine's vocal performance comes off as cooler than Wimme's but as emotional.
When she sings of the Sami way, you can hear her heart shattering underneath her unwavering vocals. Her songs range from the fun loving celebratory Sarahka's Wine (a song celebrating the birth of a child) to love songs, (I Come From the Other Side and In a Blanket of Warmth) to songs about psychic protection (Soul Medicine). However, the bulk of songs on this CD proudly honor the Sami path. The lyrics to Sarahka's Wine is an example of this, "My child now, when it's your turn to wander the old Sami
paths. Now that you hurry hurry do keep on moving."
Let Silver Protect, You Never Know, Butterfly and By the Source of Aurora B also draw pictures of Sami life, that is if you read the lyrics included with the CD since most of the songs are sung in a Sami dialect.
Eight Seasons (CD) proves to be an enjoyable and accessible listen with immaculate vocals and vocal textures set to sax, drum, guitar and synth. Although the music appears moody and ambient, it could never be mistaken for New Age. Although it is deeply spiritual, it is also extremely imaginative and innovative with a powerful Nordic sensibility.
In the past, Boine only hinted at Sami traditions in her music, performing a joik along other musical styles such as jazz so Eight Seasons comes as a unique musical journey for the Sami performer, entirely devoted to a way of life, including artwork that appears on the CD cover and Sami poetry. A riveting live performer, Boine released her CD's Eallin (1996 live album) and Gula Gula which was remixed and released on Real World. She was also featured on an international TV music presentation around the same time of her Real World release. No, doubt this talented performer will reach a wider audience in the not too distant future.
Eight Seasons only solidifies Boine's much needed presence as a premiere Sami joiker. And if the chance to see her perform in concert arises, jump at the opportunity.
Buy Eight Seasons