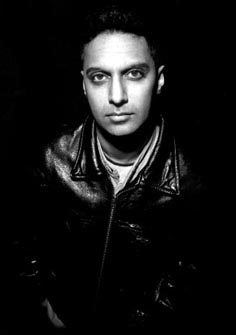 Producer/keyboardist/guitarist Nitin Sawhney may not be a household name quite yet, but all you have to do is put one of his albums on the stereo, give it some volume, and people are inevitably drawn into his luxurious, intoxicating, Anglo-Indian sound creations.
With five albums to his credit (93's Spirit Dance, Migration in '95, Displacing The Priest in '96, the award-winning Beyond Skin in '99, and the just-released Prophesy (V2/Zomba, 2001), he is currently being seen as one of England's most creative producer/musicians. He has remixed for Paul McCartney and Sting, written for Sinead O'Connor, and just produced part of the latest album from Algerian rai star Cheb Mami. Suddenly, Nitin Sawhney is hot property. It's important to have an empathic connection with what's around you. If I was listening to the sounds of insects up in Arnhem Land, or waves on the beach in Mumbai, I'd try to tune into what was in my immediate environment and incorporate the sounds into the song. I know it sounds a bit hippie-ish, but it was something I thought was necessary to do.
Were you travelling on your own?
No, I was fortunate enough to have some people with me taking photographs and filming the journey. They were very sensitive to the process, as we were trying to be as un-intrusive as possible. We wanted to incorporate the filming of where we were into the live performance of the music later, but not to have the focus on us. It felt good with that particular group of people who came along.
The opening single 'Sunset' has such a simple melody line, but it's one of those tunes that really auto-loops itself into the memory. What's its story?
I like to create songs that are very accessible to bring people into the beginning of an album. That one's really about when you're feeling down, when things aren't going all that well. You can sometimes end up coming back stronger because of it. One of my favourite phrases is "From oppression comes expression", because I think that's true. Like in Soweto township in South Africa, you see kids who are so much brighter and stronger than you could imagine, given their situation. They had the Bantu Education Act there,
specifically to teach black people to be menial workers for white people. And yet they've come back stronger. You can see that sort of thing all around the world. Even in Australia with the Reconciliation movement. People who have been pushed back, who have their rights and lives taken away from them, come back stronger, with more determination. That's what 'Sunset' is about, it's an analogy and a symbol of that process.
Talking about Soweto, you had the opportunity to spend a little time with Nelson Mandela while you were in South Africa. I take that it you were as impressed by him as most people are?
He's incredible. To me he's one of the true visionaries of our time. He could always see ahead of what was going on. Even before he was put in prison he had a very focused vision of multiculturalism. He wasn't really into pushing himself as a leader, he was more interested in people being able to live together in an egalitarian way. Even now when you meet him, he's a very humble person. His personality suits his public reputation. It was a humbling experience for me to meet him.
Did he know your music previously?
He didn't really. In a way that made it even better. He kind of agreed to meet me without really knowing anything about me, just simply because I was interested in talking to him. He was that open. He invited into his house and spent time with me just because I'd asked to. At one point while we were talking we were even interrupted by one of his administrators who said, "We've got the President on the phone to speak with you, and he says it's urgent". And Mandela turned to me and said "Do you have any more questions?", and when I indicated that I had a few more, he had them tell the President to call back in a few minutes. I thought that was pretty phenomenal!
I take it that was the South African president, not George Dubya?
Yeah, it was Mbeki, but I wouldn't have been surprised at all if it had been Bush!
You also had one of the best introductions to Australia that you can get, linking up with Mandawuy Yunupingu from Yothu Yindi, and getting to see some of his traditional land. How did that come about?
It was set up by my manager. I felt very fortunate to be invited up to Arnhem Land, as I've been taking an interest in what's going on with Aboriginal Australians for a long time; the human rights issues with the U.N.; the Pauline Hanson situation a few years ago. Australia really doesn't have a very good record on indigenous rights. Also the whole thing around mandatory sentencing and the detention of asylum seekers. So when Mandawuy invited me up, I thought it was a fantastic opportunity to get a more real flavour of what that part of Australia is all about. It was wonderful.
You've been very busy lately. Besides your own new album, you've been producing for others, you're doing TV documentaries, teaching workshops in schools… How do you keep from spreading yourself too thin?
I don't sleep or eat! Honestly I'm always busy and I love it. Just as an example of my last four days… I was on "Newsnight" with Jeremy Paxman here on TV the other night talking about multiculturalism, which was a weird experience. Then the following night I was at the Royal Albert Hall with Jools Holland and Julian Joseph, who's one of my favourite pianists, which was really cool. Then the next night I was DJ-ing at a club called "Ocean" which was fantastic fun. Today I'm going to be mixing the new single which we're going to be putting out later in the year from the album, and then I meeting up with some people to talk about writing the music for a West End musical. Then I'm jumping on a plane for Japan tomorrow! So it's kind of crazy, but I feel very privileged to be doing all the things I dreamt of doing when I was younger. I have a lot of energy for things that I believe in.
Your website at the moment is very clever place for people to check out. A little slow in loading perhaps, but well worth the wait. Did you have a hand in that too?
Yeah I did, especially with the visual and artwork. Everything reflects back on the whole project. I'm into the idea of it all having the same central focus, for the website to reflect the album and the DVD.
This has been a very quick visit to Australia, with just one gig each in Sydney and Melbourne. Any plans for a more extensive tour down here?
I'd love to! Maybe not this year, but we do want to return soon. This was just a chance to have a quick introduction to Australia with the new album, because I've wanted to play here for years. There may even be some way of starting a club down here in the future. We've been talking about that and we'll definitely
see if it can happen.
Nitin's website is: www.nitinsawhney.com