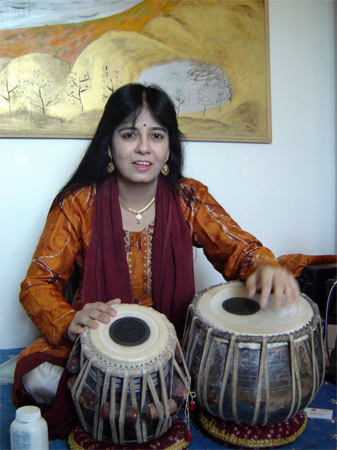 Interviewed by Seth Jordan
There's something subtle going on in India these days. After centuries of subservience to their male counterparts, there's a new generation of young Indian women making their mark in the Arts, not only at home, but internationally as well. Articulate, well educated, independently minded and extremely talented, the two most notable examples thus far have been writer Arundhati Roy ("The God of Small Things") and film director Deepa Mehta ("Fire" & "Earth").
In the world of classical Indian music there's also been a quiet gender revolution occurring. As the old masters such as Ravi Shankar and Ali Akbar Khan slow down, there's an exciting generation of young players moving up, and for the first time some of the very best are women. Shankar's own daughter Anoushka has already firmly established her own career as a talented sitarist, while his long-time tabla partner, the late Ustad Alla Rakha, who died in February, has bequeathed the world not only his acclaimed tabla playing son Zakir Hussain, but another favoured student, (and the first woman to play tabla professionally), Anuradha Pal.
Although not from a traditionally music-oriented family background, Anuradha has been performing publicly since the age of eleven. With a devoted dedication to long hours of practice and a strong determination to succeed, she received favourable critical attention at an early age and became a student disciple of both Alla Rakha and Zakir.
She now regularly appears at India's most important classical festivals and is an A-Grade Artist with All India Radio. She has appeared with some of the country's most distinguished musicians, including Hariprasad Chaurasia and Vishwa Mohan Bhatt. She has won numerous awards, is now touring internationally, and in '96 founded India's first all-female Percussion Ensemble, "Stree Shakti".
Last year Anuradha toured Australia for the first time, alongside the Melbourne-based Afghani sitarist, Khalil Gudaz. Her solo tabla demonstrations were a highlight at the '99 Bellingen Global Carnival with audiences enraptured by her irrepressible creativity, spontaneity, good humour and overwhelming rhythmic prowess. She recently returned to Australia for well-received performances in Melbourne and Sydney, accompanying India's reigning sitar star, Shahid Parvez.
She spoke to SETH JORDAN for "DIASPORA".
Anu, not coming from a musical family, how did you choose the tabla, which is usually considered a male instrument, as your means of expression, or did it choose you?
Well I come from an academic professional family. It was almost mandatory to learn some form of the Arts in my family, so I originally was learning vocal classical music. As an adjunct I started to learn tabla when I was seven or eight, basically just to get a sense of rhythm. Then it took over my life. When I was about eleven I really began to enjoy it, the act of performing, the act of communicating to audiences. I hadn't actually decided that this is what I wanted to do up until that point, but then I performed at a prestigious music festival in Bombay and I was the only teenager involved. The response of the audience was very encouraging and I realised that this is what I really wanted to do.
You must have realised even at that time though that this was not an accepted role socially for a young woman to take on?

When I first made my decision it was not to break through any barrier, it was simply because I was enjoying playing so much, so attracted to the complexity of sounds that can be produced on the instrument, the technique, the communication. My parents were always very supportive, but yes I met with a lot of opposition. First people would say, "But you are only a girl, you're not supposed to play tabla. Your fingers are too small, not enough power, no stamina. The thing about me though is if you try and stop me from doing something, I want to do it all the more. So when people tried to dissuade me, that's when I got more determined to improve. I was breaking a mould, breaking the shackles of whatis traditionally supposed to be a male preserve. So there was that prejudice which is an unfair thing to go through, especially so young. But I continued to work at it and sometimes I still have to.
What sort of practice schedule were you expected to maintain?
I would normally put in seven to eight hours per day. When I was on summer vacation from school I would undertake a forty day rigorous practice schedule where you play for ten hours continuously, with maybe a break after four or five hours. If you do stop you have to start all over again. I did that every year.
It was very demanding, a big struggle, because I was also expected to be do well with my school studies too, so it was a balancing act between tabla and my other studies.
In India there are often people in the audience who have enormous knowledge of the music, very critical listeners. Did this ever worry you?
When I was young, playing was just about having fun. As I got older I realised that there is a responsibility that I carried onto the stage. It can be intimidating to know that there are so many in the audience that know so much. But I think that's where the main challenge really lies in India, it's the acid test. If a musician can perform successfully in India he can perform anywhere in the world. His acceptability may vary, his popularity may vary, but he has been raised on firm ground. If he can get critical acclaim there, he can get in anywhere. It's a great learning experience.
How did you go about finding the best teachers for your tabla education?

Initially I was learning from Benares teachers, and at about the age of thirteen I started attending concerts, which is where I first heard my gurus, Ustad Alla Rakha and Zakir Hussain. They had also seen me perform and knew that I was very interested. It started very informally with Zakir inviting me over to their house. I went to Ustad Alla Rakha and said, "Please treat me as one of your sons, be as strict with me as you would with them. Slap me, hit me if you must, but teach me." He agreed and sure enough he was uncompromising in what he expected and I am really grateful to him for that.
Alla Rakha died just recently. In the West he was known primarily as Ravi Shankar's musical partner, but can you summarise the impact and influence that he had within India itself?

I think not only within India. Today wherever Indian music is played in the world it is because of the contribution of Pandit Ravi Shankar and Ustad Alla Rakha. They opened the doors of Indian classical music forever. They made people realise and appreciate the value of this music. As far as the rhythmic aspect
goes, Ustad Alla Rakha created a new language of tabla. He fine-tuned it as an accompanying instrument, creating new possibilities, a variety of sounds. He could blend it with any other instrument. He created his own individual unique stamp. Also he was a pioneer as a tabla soloist, making people accept the instrument as a solo voice, not necessarily just as an accompanying sound. His style was rhythmical complicated, technically beautiful and yet universally appealing. That is his greatest contribution and I believe tabla players, other musicians and music lovers will value him for centuries.
His son Zakir Hussain has obviously inherited the family brilliance as a player. Are there differences or similarities in learning from the father as well as the son?
It is a very demanding thing to learn from such people, because since they have set such exacting standards for themselves, they expect the same from their students. Zakir has also been very strict with me, he's a perfectionist. That's appropriate and has really helped me have the confidence to play in any
situation, with any artist. My training is good, my foundation is good. That confidence, which you inherit from your teachers, is essential.
When you're playing as a tabla accompanist you often have to defer to the lead melody instrument. Is it difficult to hand over that musical responsibility when you have your own strong direction?

That is actually where my biggest struggle was. As an accompanist it depends very much on the other musician and what he expects of you. He may not be able to articulate what he expects of you very well. It's really a matter of getting under the musician's skin, literally. Get into his style, his temperament, into his mind. You have to actually be able to think before he does, to anticipate where he's going, to know by intuition. It's a very tough role. Comparatively when I play tabla solo I'm the boss of the stage, it's just me and the audience. But as an accompanist you have to be simultaneously one step behind and one step ahead. It's a difficult process, but it comes from your training, your experience. It's something that you just feel. I listen to other tabla players accompanying individual musicians and try to assimilate what they're doing well, calculate what needs to be a bit more or less when I'm playing with that person. I have to find the right combination, the right mix so that the performer's happy, I'm happy, and the audience is happy.
You're playing now more often to Western audiences, who in most circumstances do not have the same understanding of your classical tradition as the Indian audiences. They may even be hearing live Indian music for the first time. Do you have to adjust your approach depending on the audience you're playing to?

You can never underestimate an audience. Every audience knows if what they're hearing is right or wrong, even if they are not as musically educated. To teach an audience is to learn more yourself. They may have more or less preconceived notions, their attention span may be different, and yes it may require more explanation, but this is not necessarily a bad thing. It's very challenging. The Indian audiences are the most difficult to please, because they've heard so much great music, it's part of their culture and you're not a novelty for them. You are either good quality or nothing at all. You're judged on that.
Some Indian musicians seem to find Western audiences, if anything, even more enthusiastic and less inhibited about showing their appreciation than their Indian counterparts. Do you agree?

Oh absolutely! When I played last year with my female ensemble at the WOMAD Festival in England it was an amazing experience. The way the people were swinging and dancing and shouting out for more, they were so enthusiastic! Perhaps in India we have so much music, an overdose of it sometimes, that we might tend to undervalue it. It can take more to get people really involved with the performance.
Tell me about this percussion ensemble of yours, "Stree Shakti".

I started it off in '96 and it's a combination of Hindustani and Carnatic music, bringing together vocal, instrumental and percussion music, which is rather rare. All members are women and all are excellent performers. I change the group's size depending on the venue and the budget. Sometimes it's just a percussion ensemble and other times it's a bigger group with the Hindustani vocals, veena and violin. "Stree" means women and "Shakti" of course means power. This is not a feminist statement though.
It's not the Indian equivalent of the Spice Girls' "Girl Power" then?
Definitely not! But it does come from the fact that I have encountered opposition and prejudice when I came into the field, and I feel that while nothing less should be expected of women, we should be able to take our rightful place in the mainstream. Don't discriminate on the basis of our gender, that's our only statement. "Stree Shakti" is more of a coming together for the members involved, it's a celebration of life.
The two most well-known tabla players in the world at the moment, your teacher Zakir Hussain and Trilok Gurtu, both have made a habit of not only playing in the classical mode, but also working on musical projects that bridge across to more contemporary forms, such as jazz, cross-cultural experiments, and the whole Indian/English Bhangra/Techno/Hip-Hop dance scene with all the Indian mixmaster DJs. Do you see yourself getting involved with that type of crossover music in the coming years, or will you be staying more in the traditional camp?

My first love will always be Indian classical music, but there are really no holds barred. I would like to experiment with other musicians, I like jazz and rock and most of the other forms. I played with Japanese drummers when I was performing at a festival in Japan, which was like a big jam session. I've also done some work with Flamenco players. So yes I like to experiment too. I think it opens your mind.