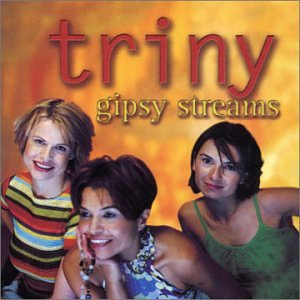 Triny
Gipsy Streams (Supraphon)
Iveta Kováĉová, Dagmar Podkonická and Jana Ryšerová met at the Prague Conservatory, all interested in Roma (gypsy) musical heritage. According to Iveta, they explored their roots together at her home, and found much to sing about. Their sound compares well with the Scandinavian vocal group Varttina in their range and accomplished vocal quality. Harmonies are not as complex and close as the Bulgarian Women's Choirs or as simple as some Caribbean ditty, but find their own center in each song.
Their arrangements sensibly feature the wonderful timbre of the three voices. No one singer dominates, but each carries a unique sound, identifiable, and, after a while, you'll be listening for your favorite. And when blended together, they sound sweet.
What makes this album super smart is their top notch band who coax rhythm and meaning out of every beat. Using a truckful of folk and electric instruments, they keep the songs lively, modern and fun, even when the lyrics are repetitious or nonsense. Very fun music to listen to on your way anywhere.