Nakai, Eaton, Clipman, Nawang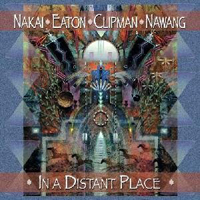 In A Distant Place (Canyon Records)
After several trial recordings together, R. Carlos Nakai and Nawang Khechog have succeeded in combining their visions of music for meditation and peace. On the same road for many years, the two flutists – Nakai on cedar and Nawang on bamboo – have pursued peace, contentment and joy through their music, Nakai from the West and Nawang from the East.
Nakai has found his way using his Native American background solo and with scores of collaborations. Nawang has until recently walked the path solo composing pieces based on Tibetan philosophy for TV and film scores. Now the two have found success in their expression together. William Eaton's unique harp guitar provides the network of notes for them to bond to.
Will Clipman's acoustic percussion grounds the group. The chanting in both Native American and Tibetan adds focus to an already meditative album. This album breaks new ground in its spiritual aim, and it is well worth noting that with it, the distance between the ancient Native Americans and the Tibetans has grown smaller.
Author:
World Music Central News Department
World music news from the editors at World Music Central