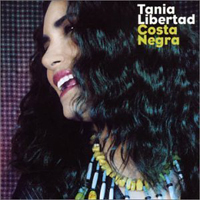 Tania Libertad
Costa Negra (World Village 468014, 2002)
Peru's Tania Libertad could be categorized alongside Susana Baca easily enough. Both women base their sound around Peru's African roots, and both sing with considerable range and depth. But where Baca's sound most often opts for a small-scale intimacy, Libertad engages with a grander, more orchestrated sound.
The characteristic Afro-Peruvian percussion foundation (including the cajón box drum) is present, with guitars, bass, violin, accordion and saxophone, giving many of the songs a sparkle that takes things beyond the Peruvian border.
The African connection is particularly strong- Libertad duets beautifully with Cape Verde's Cesaria Evora on one track and utilizes Senegalese players and instrumentation on a couple of others. Vocally, Libertad resembles not only Susana Baca but Colombia's Totó la Momposina as well (in fact, the African touches on Costa Negra are every bit as successful as those on Momposina's Pacanto album, albeit with a different regional sensibility).
Tania Libertad is poised to become a major voice on the global scene, a voice with the strength to both ride the grooves and envelop the emotions. Costa Negra has plenty of both, and that's what makes it so satisfying.
Buy the recording:
Author:
Tom Orr
Tom Orr is a California-based writer whose talent and mental stability are of an equally questionable nature. His hobbies include ignoring trends, striking dramatic poses in front of his ever-tolerant wife and watching helplessly as his kids surpass him in all desirable traits.